KAMPALA STREET FASHION – 50 portraits of Ugandan women
KAMPALA STREET FASHION – 50 portraits of Ugandan women
By Josephine Amanda Jørgensen, Nadia Charlotte Dahlgren Petersen and Nicoline Bonø Reindel,
Sunday morning in April and the sun is shining. Although it is Sunday, Købmagergade is filled with people enjoying the weather. Copenhageners never waste a chance to get some vitamin D. As we reach Rundetårn the spring has gotten us all frisky and smiling. We are so ready for this exhibition!
We enter the great national landmark and make our way up the spiral passage. None of us have been in this tower since middle school and a nostalgic sense of national pride hits us as the climb gets more challenging. Finally we enter a huge room with white timbered walls and light plank flooring. We have reached the exhibition.
Kampala Street Fashion is an exhibition by the Danish designer and economist Marie Visti Hansen and the Ugandan photographer Jjumba Martin. The collaboration took place in Kampala in the summer of 2017. The idea with the exhibition is to show 50 photographs of ordinary women in Kampala in Uganda, one of the poorest countries in the world in which gender discrimination thrives well. In spite of this Ugandan women are highly visible in the city where their colourful and bright sense of fashion is very notable in the street scene.
The photo project shows 50 very different women who in spite of different religions, body shapes and appearances all have two things in common; they exude a sense of power and self-confidence in their own bodies.
Almost every woman is wearing vibrant colours and often also traditional African wax prints. The bright colour range is in great contrast to the subdued exhibition room with its light walls and floor. The contrast makes the photographs stand out and allows us to focus solely on the Ugandan women.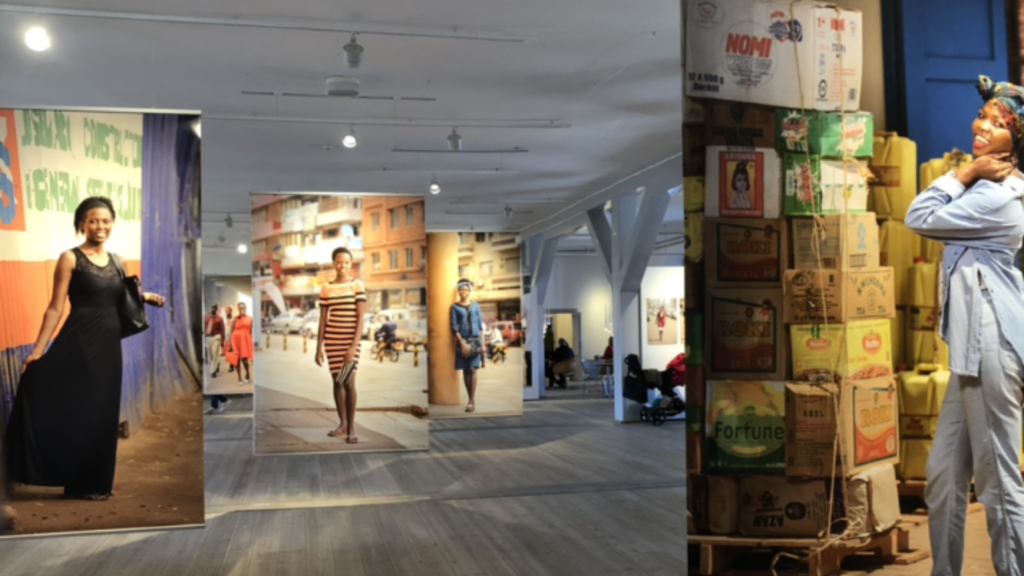 In the background of the photographs, we see busy shops, cars, food stands and people crossing the streets of Kampala. It is fascinating how the women look totally calm, almost like they have eliminated the external elements or maybe have used them for their benefit. They seem indifferent of the noise in the streets. The strong and confident women combined with the colourful background gives the viewer a strong sense of how the streets of Kampala looks, sounds and smells – with the women in focus. The women have been captured in their natural environment and seem very natural and outstanding at the same time.
Even though the exhibition somehow becomes a bit anonymous due to the lack of voices of the Ugandan women, the 50 different photographs are still very powerful. For us, they raised topics of conversation like different ideas of beauty. The photographs remind us how important it is to have confidence in and love of yourself despite the pressures of beauty ideals.