Stories from Palestine through embroidered dresses
Stories from Palestine through embroidered dresses
By Riia Marette Mäkilä
"By virtue of being made by women, and worn on the body, clothing is an intimate catalyst for the exploration of history." Rachel Redman, Curator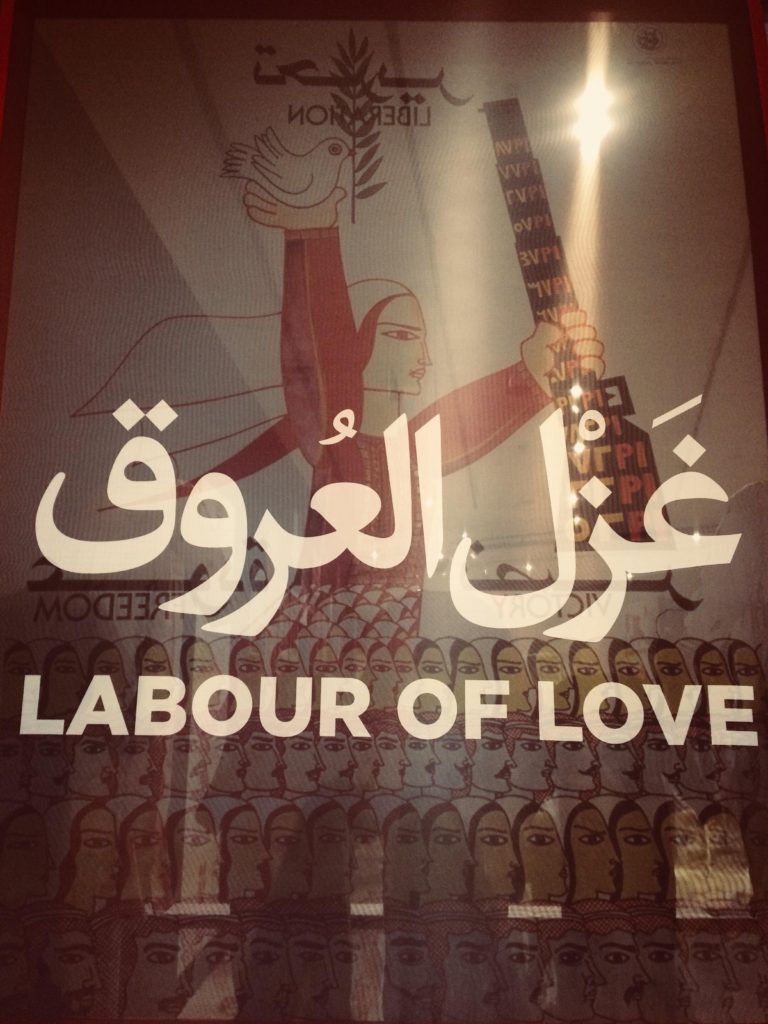 I was very excited to go and see the new exhibition 'Labour of Love: New Approaches to Palestinian Embroidery' in the Palestinian Museum, as I have seen Palestinian embroidery being sold in shops and on the market throughout the West Bank.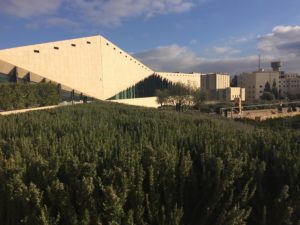 Embroidery has its own language – every embroidered dress tells a story that is linked to the specific region and history of the woman who made it. Traditionally, embroidery is transmitted from generation to generation – from mother to daughter. As a consequence of the political struggle embroidery has changed its meaning. Embroidered dresses made by Palestinian women, and some by Palestinian male prisoners, are the central objects on display at the exhibition.
The museum invites visitors to think about traditions of female labour, images of women and the structure we consume today. For instance, during the First Intifada, when Israeli soldiers confiscated the Palestinian flags the women were carrying in protests, the women responded by embroidering the flag of Palestine in their dresses.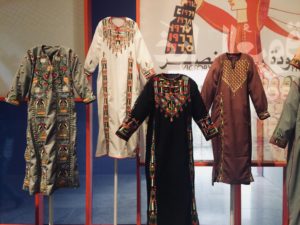 As stated above, the exhibition tells visitors about political, social and economical histories of Palestine through embroidered dresses. Thus, Dedman explains when I ask her about the main message of the exhibition that it is crucial to recognize individual stories, as embroidery is located in the women who make it rather than some abstract idea of Palestinianess or a static notion of heritage. At the heart of the exhibition are the videos displaying individual stories of Palestinian women living in the West Bank and in the diaspora. Lauren Turek's article (2017) on religious history objects in museums explains how the combination of different strategies, in terms of videos, individual stories and memory is an effective way to create a sense of history. In addition, this gives voice to women that are usually not heard or have the opportunity to make such an exhibition. From this perspective, the museum can be seen as creating a mediated contact zone with the visitor. As Marie Louise Pratt (1991) states, a contact zone is as a social space where cultures meet and clash – unequal power relationships appearing to be the rule rather than an exception. In relation to the axis of power and social relations, Palestinian embroiderers are placed in a subordinate position to the foreign visitors, due to the Israeli closure policies. For instance, who in Lebanon can come to Palestine and vice versa – it's not easy.
My knowledge on embroidery is rather limited, so I feel curious and amazed by the beauty of the objects displayed at the exhibition. However, I start speaking with a local young woman and realize that her perception of embroidery is slightly different than mine, as she has a wider understanding of the overall context. She explains that in the past Palestinian women did embroidery to kill time but today organizations use it to kill your time. As a way of supporting women this industry is very fluid like any other business: you end up working all day and night but in the end, you can't afford to own what you make. In line with this, the final part of the exhibition invites the audience to look critically at the increased role of NGOs in Palestinian embroidery. Can we talk about a myth of empowering women through embroidery?
References:
Turek, Lauren F. 2017. "Religious History Objects in Museums." Religion in Museums: Global and
Multidisciplinary Perspectives. By Gretchen Buggeln, Crispin Paine and S. Brent Plate. London:
Bloomsbury Academic, 2017. 57–62.
Pratt, Mary Louise (1991) Arts of the contact zone. Profession: 33–40.